"I am really happy to leave this terrible weather and go far away." -- Aris in the offline guestbook, 22nd of November.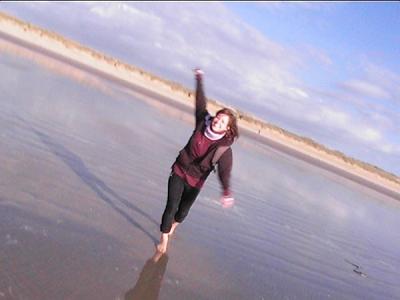 Aris in Quiberon
Aris. We can still see her sitting on the back-porch, smiling, overwhelming everyone with her smile. Full of joy and perception. She understood the art of perceiving, of traveling; the art of hitchhiking and the art of balancing. Aris was a wonderful young girl with an amazing potential. She was very remarkable with a great sense of direction, depth, and dedication.
Aris left Casa Robino on the 22th of November 2008. A day later she wrote us: "It is gonna be a hard winter and Aris is going to the South to deal with French keyboards which she hates so much." She hitched out of Amsterdam to meet the skillsurfers and joined them the next day in a French community, to take part in the skills-tour.
Aris was passionately dreaming about creating a different world, a world where we share ideas, visions, and dreams. Aris had the power to move something, to make a difference.
Aris was incredibly enthusiastic about the Skillsurfers. She spotted a flyer here in the house, found out more about the project online and was enchanted. She joined then to add her youthful but effective organizing energy. Shortly after she joined skillsurfers in France they arrived in Barcelona and under her gentle guidance, they were already more together.
Aris was traveling with a filmcamera and she wanted to join the tour to document it, and to take part in it. Before leaving, she left the casa several beautiful hand-written leaflets and flyers about the skillsharing and left wonderful notes in the offline guest-book that inspired fellow visitors and hosts of the house.
Aris wrote us several times, while on tour. She wrote us when she was in Barcelona, giving us an eye-witness account of an student occupation of the Barcelona University, and later on she joined another project, Migrobirdo, a group of young people, which is travelling from Germany to other countries, cultures and societies with a sailing-boat to promote sustainable change. (Migrobirdo means migrating bird in Esperanto).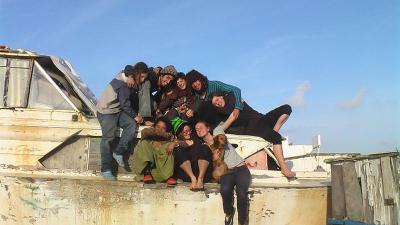 Aris: Crew of Migrobirdo, a group of young people, which is travelling from Germany to other countries, cultures and societies with a sailing-boat.
Aris was on this boat when it capsized in the Atlantic Ocean just off the coast of Morocco (interactive map). The boat had already crossed the Mediterranean and was now heading South. "Salam. We got in a night trip to larance an waiting for good wind to go direction Rabat", was the last news we heard from the crew.
Aris, our thoughts and empathy are with you, with the crew, the friends and family of the members and everyone who is affected.
Aris might still be alive - even after a 3 day search. We never know. But one thing is for sure: Aris will always be with us.