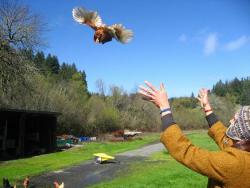 How one connection leads to another. Just when Caroline informed me she did her first hitch in the US, we started chatting and found out meanwhile that "a friend of Lily's who posted a comment on her blog is staying with a good friend of mine in california right now". She then pointed me out which house this is, and I was very nicely surprised by what this house is aiming for. It is basically a great skillsharing house with many opportunities for people to stay over for long-term.
They call themselves an Anarchist Bed&Breakfast and Retreat Centre or 'Cultural Rehabilitation Internship Center'. "We are attempting to create human settlement that practices the utopian vision we carry. we start small, and maybe we'll end up small too. but in the meanwhile we are creating living conditions that facilitate kindness, cooperation, education, art, fun, friendship, and maybe other things we are not even aware of or have words to describe (and maybe even not all of them are good). no clear dogma yet. this is an on-going experiment in what it takes to create good life for the human animal."
Check for more info here: http://crichouse.blogspot.com/2009/02/cric-house-what-are-we.html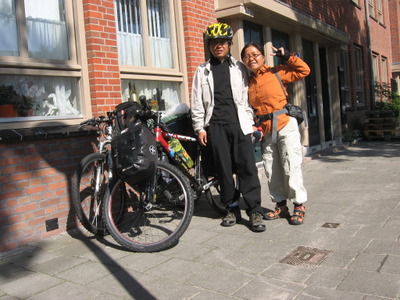 A similar event happened here last week when we had two hosts here from Seoul. They are cycling around Europe and found our house through our http://warmshowers.org profile. There is hardly any info on our profile of what we do here and aim for, but somehow we were bound to connect. It was a very big surprise to us that they informed us about the existence of several 'guest-houses', or self-managed traveler homes, in Seoul. People can stay for short or long term and pay one fixed fee per day (one euro). And the houses are pretty much self-organised. It would be great if we could get some more information about these places.
A website in Korean language you can find here: http://house.jinbo.net/