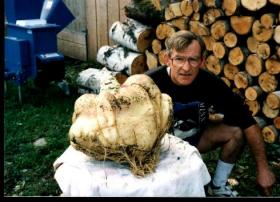 There are many great things about dumpster diving. One of these is that sometimes you end up with veggies or fruits you never had on your plate before. Like today, when I went out with Marc dumpstering at the Ten Cate Market, we hit the jackpot with kilos and kilos of some food we had never seen before. And after cooking and eating it, I really wanted to know more about the delicious food I just had.
First the cooking. Contrary to what most think, preparing something without actually knowing what you're cutting isn't that hard. You just do it: boil or steam or frie and see how it comes out, add some herbs, a nice sauce and have it with some rice.
For today, I just cut it, fried it with some oil, added some courgettes for the added variety as well as some random herbs and prepared a rich tomatoe sauce (just add some union and red pepper and maybe some random herbs, terminate it, eat it raw or just boil it). The result was simply amazing for such an easy meal (total cooking time was less than 15 minutes), and makes me want to have more and try this veggie in all types of recipees.
After eating, I went into investigating what this (root-)veggie now actually is, and what you can do with it apart form having fun and investigating. Turns out it is a lost vegetable here. People stopped eating it because of the First World-War. It used to be the main diet for most of the people and after eating it on a daily basis they got so sick of it they now wanted to have something else, which resulted in a complete denial of the poor vegetable.
But, in Scandinavia and especially Finland it is among the most popular veggies. Can you believe that? Anyway, it is a great vegetable with many amazing recipees, and even a fan-webpage. And, although the ones that we dumsptered today are rather small, you can have it grown really, really large, as you can see on the photo above. Let's try to plant it as well on the rooftop!
And the name? Rutabage, part of the highly prized family of cruciferous vegetables.